Help us to build three classrooms.
We'll provide the children who occupy them with a quality education.
Those children will rebuild the world.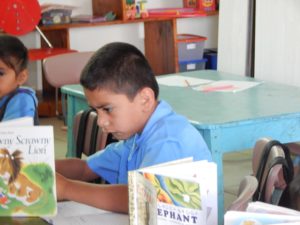 We are building three new classrooms for our students at the Good Shepherd Bilingual School in Camasca.  We humbly ask your partnership in building with us. The bricks, mortar, and wood that is so necessary now in building a durable structure will one day erode again into the dirt. But what we will build in these childrens' minds and hearts will endure for generations on end. With a little of your help now, it is they that will rebuild our world into a place where respect, justice, and compassion will thrive. Please, help us to build.
Select Your Contribution level by clicking on an icon:
$1000 +               $500 +                       $250 +                       $100 +              Any Donation
[table id=8 /]

**Star Donors**
Paula Vajda in Memory of John and Frances Manship — $5,000
Liberty Health Care Corporation — $5,000
Macair Aviation — $5,000
Anonymous — $5000
Anonymous — $5000
Robert Tomlinson and the Tomlinson Family Charity Fund — $3,000
Patrick & Brooke Meade — $2,500
In honor of Dr. Roy and Melanie Sanders — $3,000
Steve and Tracy Bartz — $1,000
Thomas Trumble in honor of the "Angels of God" — $1,000
Berc Gawne in memory of Bernard and Manruth Gawne — $1,000
**Brick Donors**
Doug and Barb Smucker — $500
Kathleen Brown in memory of Leo Swearingen — $500
Michael Allen — $500
Jim Molnar in honor of Jennifer Molnar — $500
William Hoyt in memory of L. Everett Waite — $500
Virginia Vanstory — $500
Paul and Mary Renard in honor of Los Profesores de la Escuela Bilingue — $500
Bruce Gephardt in memory of Joan Gephardt — $300
Julia Polansky & Joseph Coles in memory of Anna Polansky — $250
Michael Murphy — $250
Martin Papazian in memory of Vartan Papazian — $250
Stephen Renas — $250
Michael Kaye in Honor of Susan Kaye, MD — $250
Kenneth and Sabrina Watson — $250
J. Victor Bean — $250
James McClintock in memory of Sue Ann Fensternmaker — $250
Jennifer Mullendore in honor of all inspiring teachers — $250
Bradni Wooten in honor of Chili Presbyterian Church Mission 2016 — $250
**Special Mention Donors**
Karin Larson in memory of my mother, Bernice Larson, a rural schoolteacher in Minnesota — $200
Christopher Meier — $200
Elaine Massery — $200
Mr. Charles and Dr. Angela Kohnen — $150
Susan McKenna and Elizabeth Hynes in memory of Willian and Jeanne McKenna — $100
Miguel Arce — $100
Susan Bacon — $100
Mark Schumacher — $100
Huy and Tran Le — $100
anonymous — $100
Kim-Dung Vo — $100
Sarah Tafoya in honor of Dr. Christy O'Dea and Christian Busken — $100
Bryon Thomas — $100
Michael's–Michael Casali — $100
Richard and Lois Post — $100
Mary McGuire Lussier and family to honor the work of my beloved childhood friend, Laura Failla Manship and Paul — $100
Paul and Linda Schuler — $100
Silvia Canessa in memory of Nora and Roberto Luna — $100
Michael and Kathleen Yang — $100
Alice Genereux in gratitude Paul and Laura Manship — $100
Terri Haven — $100
Jiri and Kathy Sonek — $100
Stan and Jan Witkowski in honor of all dedicated teachers — $100
Barbara Churchill — $100
Christine O'Dea — $100
Mark Dressner in memory of Jean Detar, RN (12/7/2016 – frequent brigade traveler) — $100
Kyoko Kageyama — $100