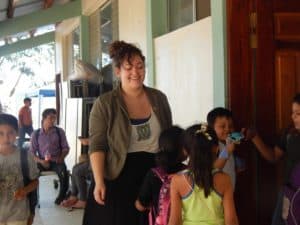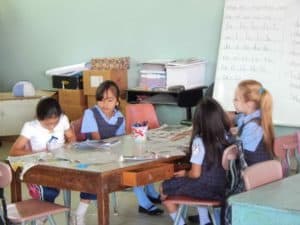 The Good Shepherd Bilingual School in Camasca, Intibucá is located in a very poor rural area of Southern Honduras referred to as the Frontera (Frontier), close to the border of El Salvador.  Although the school is public, the quality of bilingual education is maintained by a unique arrangement among the Honduran government, the municipal governments of the five surrounding towns, Shoulder to Shoulder, and the parents of the students.  It is a model school, offering primary education from kindergarten through the sixth grade.  In 2015, the school comprised kindergarten, first, and second grade, but will add a grade a year.  English speaking volunteers with skills and zeal for primary education and childhood development are in great demand.  As a long-term volunteer, you will be rewarded with a sense of great joy, knowing that you have made a significant difference in the lives of children whose opportunities have been very limited.  You will be immersed in Honduran culture and the Spanish language.  You will gain experience that will be of incalculable value in your personal and professional life.
Benefits for Long-Term Educational Volunteers:
Housing and food provided.
Small monthly stipend to cover travel and living expenses.
Opportunity to learn/improve Spanish.
Experience working in education and development.
Association with a well established NGO, serving and empowering low income persons and communities.
Bilingual School Teacher:
Duties and Requirements:
Teach English (ESL) alongside certified, bilingual teachers.
Live with host families selected by Shoulde to Shoulder.
A commitment of 10 months (Honduran school year from February through November).
Teaching experience is beneficial, but not required.
Fluency or proficiency in Spanish is not required.
Teachers will receive airfare.
Bilingual School Assistant:
Duties and Requirements:
Assist teachers in class preparation and implementation.
Work with students on learning English and other subjects.
Motivate students to develop good reading habits.
As needed, tutor students in English and other subjects.
Participate in meetings with parents and local committees as necessary.
Work collaboratively with the ongoing sponsorship program for the school and students.
Experience working with children.
Time commitment of no less than four months.
Basic knowledge of Spanish.
If you are interested, please contact Laura Manship at paulandlaura@shouldertoshoulder.org for more information.  In you wish to apply, include a resume and cover letter.