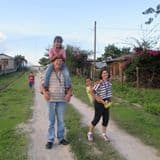 November 1, 2014
Laura and Paul Manship are pleased to begin their new position as Director of Communications and Development for Shoulder to Shoulder.  They have been in Honduras since September of 2013 and have volunteered at two NGOs.  They began at Montaña de Luz en Morecelí, El Paraiso.  Montaña de Luz is a home for children who are infected or affected with HIV.  Over the last few months they have lived in La Esperanza, Intibucá, volunteering their time and talent at Maestro en Casa, a long-distance learning program for secondary education.  As of November 1, 2014, they will begin their service to Shoulder to Shoulder, living in La Concepción.

Shoulder to Shoulder is doing such incredible things in the Frontier region of Intibucá, and, for Laura and Paul, it will be a privilege and an honor to highlight and promote such important work.  The ongoing, primary health and dental care, the public health work, the preventive care instruction, the brigade work, the education programs, the nutritional programs, and clean water programs are all part of an empowerment model of service that will richly enhance people´s lives.  The transformative stories cry out to be told and celebrated.

Both Laura and Paul are licensed professional Social Workers in the state of Massachusetts where they lived before coming to Honduras.  Their background and experience is unique and diverse.  Laura is also a MBA and last worked in a Community Health Center in Holyoke, MA as Director of Operations and Behavioral Health Services.  Paul was a Roman Catholic priest for seventeen years working with the Latino community of Western MA before voluntarily leaving active ministry in 2005 and marrying Laura in 2006.   Since then and prior to moving to Honduras, he was a supervisor for Elder Protective Services.

Laura´s two children, Emma and Greg, have both begun their professional careers.  The empty nest gave Paul and Laura the inspiration to follow their dreams, selling house and belongings and moving to Honduras.  They are excited to begin working shoulder to shoulder in community to create and operate sustainable health, nutrition, and education services with equitable access for everyone.