Reflections from a brigade member:
"Back now from Santa Lucia and Concepcion for almost three weeks and still taking cold showers, conserving water, and sitting down at the table to eat my meals (with my family!). The inner peace I brought home with me from Honduras is incredible.
I would like to thank Shoulder to Shoulder for providing me the opportunity to experience healthcare in Honduras and share my nursing skills and knowledge with an incredible population.
Many years ago my family was rescued in the mountains of Mexico by a Hispanic family. They cared for us without question until we were safely back on the road. This led to a life long friendship and my father vowing to help educate their family. He did that and so much more. Through this experience I fell deeply in love of with the Hispanic culture and have continued my father's work years after his death. It wasn't until two years ago that I became a nurse and knew then that my mission was to provide medical care for the poor especially in Hispanic countries. I think my father would be proud. You see my father was a physician and I did not go to nursing school until after his death when I was 43 years old.
The staff were amazing and I thank them for keeping us healthy and safe. I followed all the advice I read on the web site and came back healthy and in shape thanks to the endless walking uphill. How was it we never seemed to be walking down hill? Incredible!
Our translators are to be congratulated. Daniel, Foncho, and Josh were courteous, mature, and always available for translation needs. Our prepared health promotion was on women's contraception and each young man handled themselves professionally. I know they went out of their way to make sure we were safe and comfortable. My thanks to all three of them.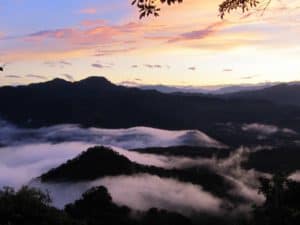 I am still in awe of what I experienced in Honduras. There is nothing greater than giving of yourself to others. I respect the mission of Shoulder to Shoulder and hope to return on another brigade. It would be an honor to find a way I can continue to support Shoulder to Shoulder with my nursing skills."